If you have an unfinished basement space, it could be the best possible way for you to upgrade or expand your living space. Building a finished basement is the cheapest way to add space to your home.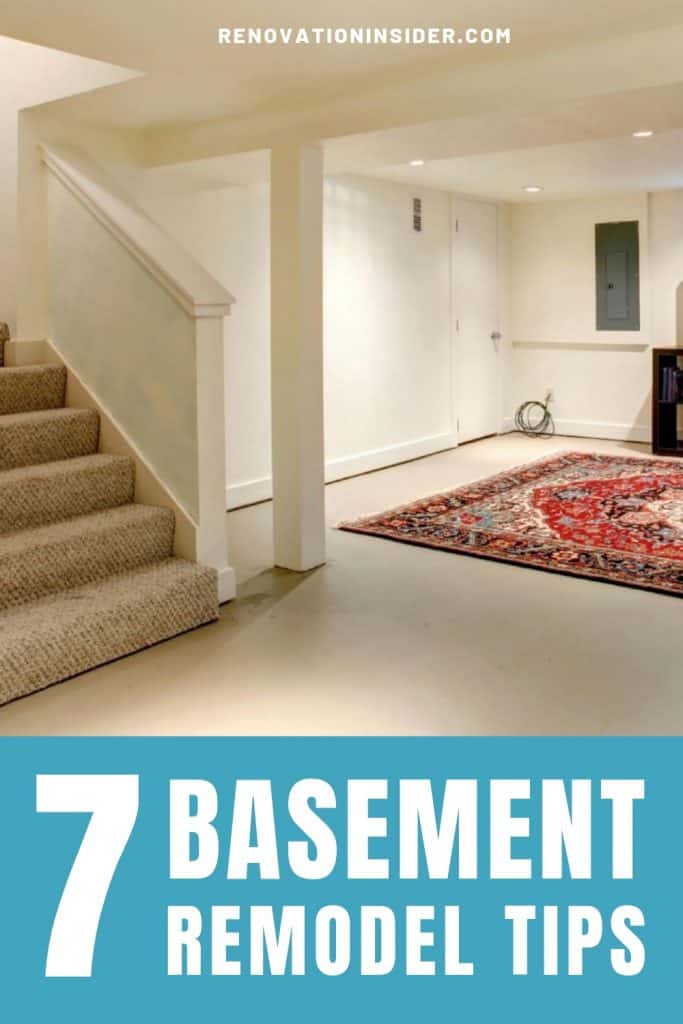 And a basement remodel can be a great DIY project! It's an adventurous one just because of it's size and the length of time it's going to take.
But the rewards can be great. At the end of it all you will have a house that feels so much bigger than what you have today.
Project planning
The image shows you some of the tasks that have to be performed in sequence for the project to go smoothly. And this is just a summary list. Each of the tasks has subtasks.
Put in the time to learn what they are. It's going to pay off during bidding and construction.
How to Design A Finished Basement
It all begins with design. Invest the time focused on this part. Don't rush it.
First, decide what the primary function of the space will be and then stick with that.
The most common basement transformations are
Playroom

Media Room

Home Office

Guest Room

In-law apartment
plan to save money
Design your finished basement around the Existing Conditions
There are some features of the basement that would cost a fortune to move.
So, design your basement remodel around the stairs, the boiler room, the hot water heater or even a column that's right in the middle. Don't move them. Put your ingenuity to work and design around them.
work with existing Plumbing pipes
If you're putting in a powder room or kitchenette, plan to locate them close to existing the plumbing waste and vent pipes.
Also plan to design around any overhead waste or vent pipes. It could be very difficult to move those pipes. But water lines on the other hand can often be moved.
Design with ceilings in mind
Basement ceilings can be busy places with electrical wiring, plumbing pipes and beams just to name a few.
Look at these as design challenges with hidden opportunities. Build soffits that can add architectural interest. Lowered beams can create a sense of separation within a space without having a partition.
Soffits can be great places to hide indirect lighting. And good lighting is the key to getting the best possible basement remodel.
lighting design
Basements are an opportunity to work with lighting as a major design element. Add some step lights at the stairs to transform it into an inviting transition space.
Use some very inexpensive rope lights as indirect lighting in soffits that have to hide plumbing or ductwork.
Check in with your local building department
Once you have a basic design, you should get some advice about the building code. The local building department is the authority on how you can use the space for the purpose you have in mind.
You might learn that the space won't qualify as a bedroom but could qualify as a playroom, a media room or one of the other ways you'd like to use it. Better you find out early on.
If you decide DIY is not for you, a design-build firm is a very good option. They will know the codes and they'll design the space so that it will pass all the inspections that are needed.
get a building permit
Many home owners don't realize that they are supposed to take out a building permit even when they are doing most of the work themselves.
Adding a finished basement without a permit is a bad idea for several reasons. There are real risks.
downsides of Not filing
Problems when you go to sell your house.

No proof that the work was inspected.

No evidence that the work was performed by people who are licensed.

Homeowners insurance company might deny coverage.

An insurance can claim that your negligence contributed to the problem.

Unwanted attention from the local building department.

If a neighbor contacts the city, you will be required to get a permit.
How to get a permit for a finished basement job
Filing a job like this is straightforward. Building departments are good at helping homeowners with the paperwork.
But in most jurisdictions you'll need a set of drawings stamped by a licensed architect or engineer.
There are architects that specialize in creating drawings just for permit purposes. These are not nearly as detailed as construction drawings prepared by a design architect.
The good news is that those drawings cost much less. If you have already picked a plumber and electrician, ask them if they know code consultant architects. These architects are also known as expeditors and will help you to deal with the building department.
Eliminate moisture
No matter how you plan to use a basement remodel, moisture is your enemy. You'll want to address this before you finish your basement.
Even if you don't have puddles of water anywhere, you can still have moisture. The first sign that your basement has a moisture problem is often a musty odor. Another indicator is if you see condensation on water pipes in your basement ceiling.
If it's just a moisture problem, a dehumidifier might be all you need to keep the relative humidity low enough.
A central AC system also helps control relative humidity. Even if you don't yet have central AC in the house, add it to your planning. And if you already have central air it might be possible to add on the basement.
Pro Tip: If your laundry is in the basement, check the dryer vent. Make sure that the ductwork isn't leaking any air. The air that the dryer is pushing out is very moist.
Eliminate water
If you've been living in the house awhile, you probably already know whether your basement is completely dry. If it is, great! You just saved lots of time and money. But if you haven't lived in the house through some wet seasons, you can't be sure the basement is completely dry.
Look for tell-tale signs of water. Do you see dried up water stains on the floor? Do you see an indication that water has ever run down along the basement walls?
If your basement has a water problem you have two or three basic ways of handling it.
Re-grade to stop potential water issues
Re-grading is the process of removing dirt away from the exterior walls of your house. This allows the water to flow AWAY from the home. No water issues!
But how do you do that? The good news is, it's a very simple project.
Walk around the perimeter of the house outside after a heavy rainfall.
Mark the areas in which you see puddles accumulating against the foundation wall. Those are the areas you want to tackle.
The goal is to move water away from the foundation wall. One way is to change the grade and slope of the dirt so that water flows away from the house.
You can also add pavers that won't let water through.
Slope the pavers slightly away from the house. The water will follow that new path and your basement will stay nice and dry!
Install a french drain system
That's not possible for everyone. So you'll need to look at options for work to be done inside the house.
From the inside, cut in a french drain system. The drain system is a channel around the perimeter that directs the water to a sump pump.
A french drain system doesn't stop the water from coming in but it can make sure the water is contained and eliminated from the house right away. These systems work well except when there's a power outage.
This kind of work is done by a waterproofing company. In addition to the drain system they may recommend applying a waterproofing membrane to the foundation walls.
Noise Control
Spend time to think about noise management. Planning to reduce or eliminate noise can enhance your enjoyment of the finished space. There are several types of noise sources you'll want to consider.
Ambient Noise
A common complaint about finished basements is the amount of ambient noise. But with a little planning and additional work, you can minimize unwanted noise.
Equipment Noise
One source of noise comes from the equipment that's typically occupy a basement. The boiler, hot water heater, and laundry equipment all generate noise.
Make sure to add sound insulation in partitions surrounding the boiler room or laundry room.
Foot Traffic Noise
Another source of noise comes from the impact of foot steps overhead. Therefore that noise is harder to control, especially if you're going to have recessed lights in the ceiling.
If you have enough ceiling height, one of the best ways of controlling sound from upstairs is to install a dropped ceiling.
Another alternative is to add sound insulation such as rock wool into the joist bays. That might not eliminate all noise but it will reduce it by a whole lot.
Plumbing
If you are adding a bathroom you may need an ejector pump. This is a specialized pieces of equipment. The installation isn't easy. Hire a licensed plumber.
And ideally, have the plumber include the cost of the electrician. The advantage of doing it this way is that you have just one person or company to contact when something isn't working properly.
Electrical
If you're refinishing an entire basement, you will likely need several new circuits. Do you have spare circuits in your panel? If not you'll need to add a sub-panel.
You need a permit for all but the simplest electrical work.
This work doesn't have to break the bank. Sometimes you can save money by chipping in on the labor. An electrician will let you mount electrical boxes or even pull wires under supervision.
Metal Framing
You can save money on your framing too.
A basement renovation is the perfect place to use metal stud framing. Within the first day of framing you'll see the benefits of working with studs that are lightweight, perfectly straight, and impervious to water damage!
And metal studs are cheaper than wood studs.
Flooring
When you start to think about how to cover up the concrete floor in your newly finished basement, you'll have a range of options.
The most common choice for basement floors is carpet.
Depending on how you plan to use the space, vinyl can be be a great finished flooring option. If you're looking for an upgrade, both ceramic tile and wood flooring are beautiful options.
One important item that DIYers tend to forget is that if you build up the floor finish you can create problems with your stairs.
All risers on a stair should be the same height. It's not okay to have the last riser be different from all the other risers. It's a dangerous tripping hazard. So do keep that in mind as you consider your floor finishes.
Any DIY project changes how you enjoy your house in one way or another. A basement DIY is on another level. You get to add one, two or even three rooms to your house.