You might be pleasantly surprised by the DIY home upgrade ideas under $100 that you can accomplish in just a couple of hours! And none of these ideas create a mess.
Here are some of my top upgrade ideas that are easy to do and that can add value to your home.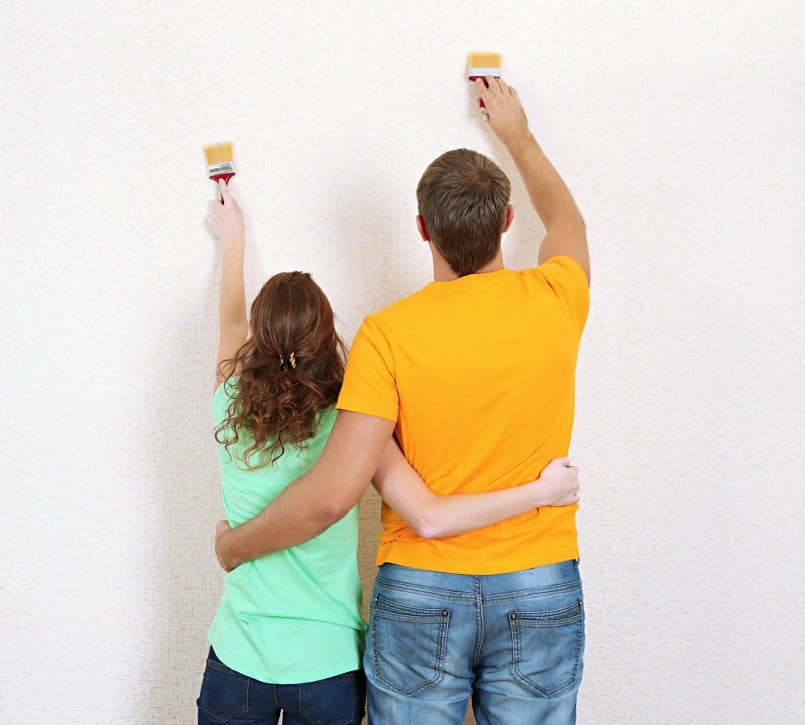 And I'm not swapping your time for your money here. Each of these upgrades takes less than an hour start to finish.
If you're about to paint a room, you're already going to take furniture and other small items out. And you're going to drop-cloth everything else.
That would be a perfect opportunity to make these easy upgrades. These are all easy to do and will give any room a major lift.
Upgrade Your Outlets
If your house is like most houses, the electrical outlets you have now are the same ones the builder installed. Guess what, outlets have come a  long way since then. How about adding a USB outlet like this one?
USB outlets are cool, have been around for ten years or so and yet for some reason they are still a rarity. Also, these outlets are just as safe as any other outlets in your home. By the way, always make sure that any electrical devices you install have aUL label.
The outlets, with built in USB charging ports are really handy at a desk, a bedside or a counter. Instead of having to plug in a transformer you can plug the USB cable directly into the wall outlet.
And you don't have to worry that the charging brick will block the duplex receptacle!
At your bedside you can plug in your bedside lamp, any other item that needs electricity and you can still charge your phone, a watch or a tablet. And you can do all this without an ugly power strip.
https://www.youtube.com/watch?v=ika_BlEQQjA
Outlets covers with built-in night light
I really like outlet plates with built-in night lights. They are unobtrusive, they don't occupy an outlet, they don't give off any heat and you don't have to worry about someone banging into them or pulling them out of the socket by mistake.
This wall plate is really nice in a hallway or child's bedroom.
Upgrade Light Switches
Decora style rocker switches are simple to change out and look so much better than the old-fashioned toggle switches.
I like the lighted kind. The light is very muted. It's not enough to act as a nightlight but just enough to make sure anyone can find the switch.
And if you have an overhead light for the bedroom, install a dimmer switch. When you can control the light level in a room, you have control of the one thing any room has to have: light. It's as important as the paint color or the floor finish.
The type of dimmer used to dim an LED lamp is different from the kind used for a halogen or a fluorescent bulb. Check which bulb you are using before you buy a dimmer.
Upgrade Door Hardware
Changing out your door hardware is another easy task. Most hardware is made to be interchangeable. In other words, new door handles will work with the holes already drilled into your doors. If you can use a screwdriver and read installation instructions, you can replace door hardware in thirty minutes or less.
Caveat:
If you own a pre-war home, your door hardware probably cant just be swapped out for something off the shelf at your local big box store.
Types of door hardware
Door hardware typically comes in four different types of function. They'll be listed on the packing.
If door hardware doesn't have a locking function we call it a passage set. You can close and latch the door that has a passage set. You can't lock a door with this kind of hardware.
We use privacy hardware on bathroom doors. That's the hardware can be locked on the inside.
Tip: Privacy sets come with a type of "key" that's designed to open the door in case someone inadvertently gets stuck inside. Did you ever notice a little hole in the middle of a door knob and wonder what that is? The hole is for the emergency key to get little Johnny out of the bathroom. If you install a privacy set, put that emergency release key on the door casing so it's always on hand when needed.
A dummy set of hardware is just a handle that doesn't even turn. The handle doesn't help to keep the door closed. Builders sometimes use a dummy set on closet doors.
If you change the hardware on your front door, you might use a type that's called key-in-knob.
Upgrade Door Hinges
Look at the door hinges while you're at it. Are they a little tired looking? Is there paint on the hinges? Are they showing some signs of rust? A new set of hinges can be very inexpensive.
You don't need to take your door down to change the hinges. Open the door as much as you can. Wedge something between the bottom of the door and the floor to keep it in position.
Take the screws out of the top hinge and replace it. Do the same thing for the bottom hinge. The spacing of the holes in hinges is standardized. That means you probably won't even have to drill new holes.
Air-Conditioning Grilles
Have you really looked at your AC grilles lately?
Grilles collect dust over time. You can take them down and clean them off.
But maybe they are looking worse for wear?
You can repaint them. But if you use a brush, the brush strokes will show. You can eliminate this problem by cleaning your grilles thoroughly then hanging them up and spray painting them.
But before you go to all that trouble, get a price for what it would cost to buy new grilles. Standard size stamped metal grilles usually cost between $10 and $25.  And you can easily install new grilles.
Summary
There you have it, simple, inexpensive and quick home improvement tasks that will have a big impact.
Paint or swap out your air-conditioning grilles
Change out your door hinges
Change your door hardware
Upgrade light switches
Install USB outlets
In one day or less, you could go through each of these and all for less than $100!