A bathroom renovation can easily cost $15k on the low end. Here are some budget friendly bathroom ideas that are easy DIY projects! You don't need to spend anything like $15k to make a huge difference in a bathroom.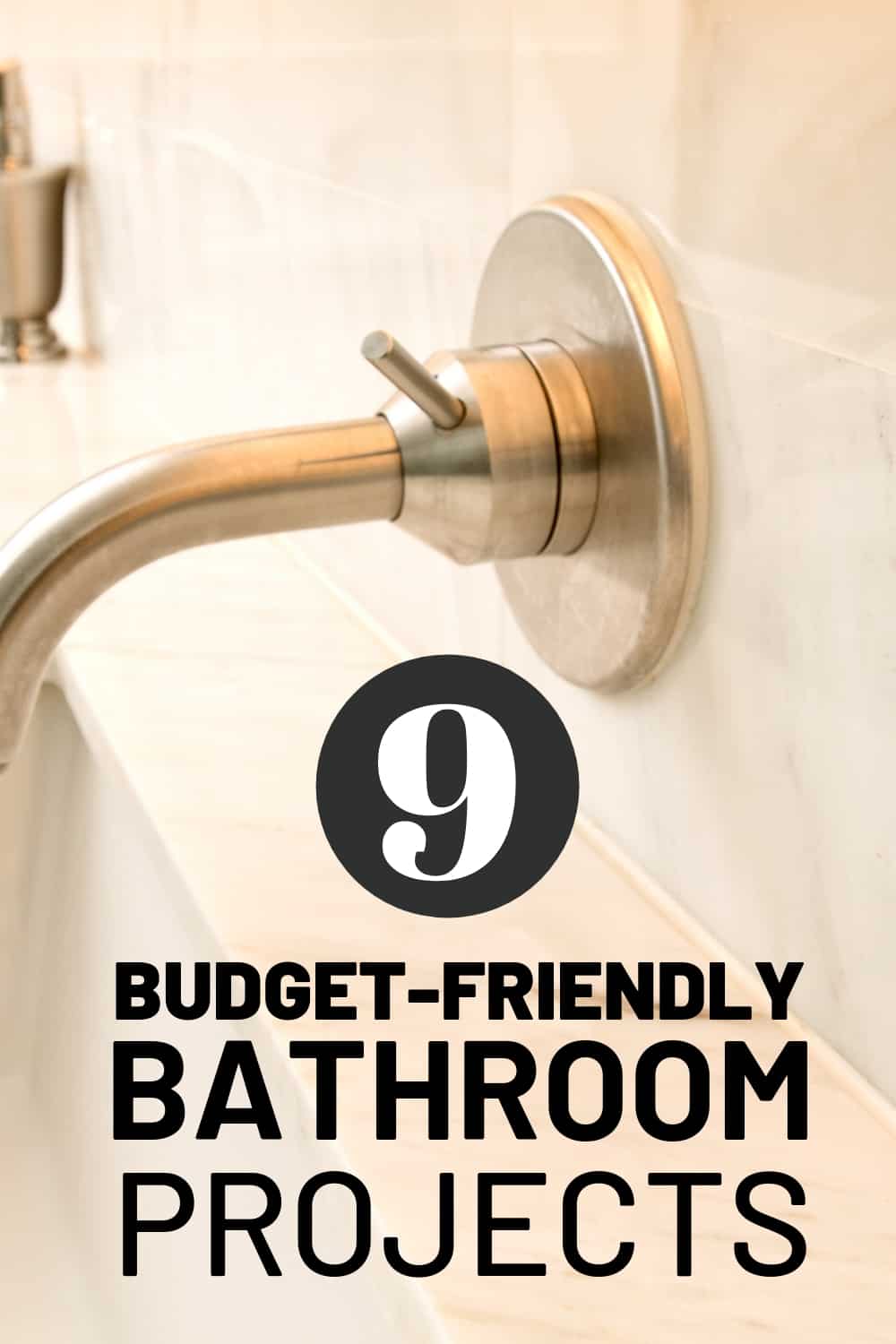 Bathroom Accessories
Bathroom accessories are the towel bars, towel rings, robe hooks, shower baskets, toothbrush holders and other little hardware conveniences in our bathrooms. We take them totally for granted when they're there and we notice when they're not there.
When you do buy your bathroom accessories make sure you have the right Allen keys. Sometimes you'll need a long version of the Allen keys to work on the set screws for bathroom accessories
1. Install towel bars
Shiny new towel bars, robe hooks and toilet paper holders make a bathroom look put together.  This is especially true if they all match one another. Look for the same manufacturer for all.
If any of your accessories are mounted on tile, you'll need to make sure that whatever you replace it with will fit into or cover the existing holes.
And if you want to add an aura of luxury to your bathroom, install a towel rack at the far end of the tub or shower. There's something luxurious about a stack of neatly folded towels in a bathroom. Or is that just me?
THIS POST CONTAINS SOME AFFILIATE LINKS FOR YOUR CONVENIENCE (WHICH MEANS IF YOU PURCHASE AFTER CLICKING A LINK I WILL EARN A SMALL COMMISSION, BUT IT WON'T COST YOU A PENNY MORE)! YOU CAN FIND MY FULL PRIVACY AND DISCLOSURE POLICY HERE.
2. Add Spare Roll Toilet Paper Holders
One really great innovation in the world of TP holders is the "spare roll" TP holder. Take a look at these choices.
3. Add Robe Hooks
One of the budget friendly bathroom ideas is to put a couple of robe hooks onto the back of a bathroom door. This can be done in thirty minutes or less. And the great thing about robe hooks is that they can hold bath towels just as well as they hold bath robes.
If you have a hollow core door, install the robe hooks very close to the top of the door so that you can drive the screws into something solid.
Another great place to install robe hooks is at the end of the tub or on the shower wall furthest away from the shower head.
Shower shelving is a great convenience. The best is the basket type. Water passes right through them so you don't need to worry about soap scum or black mold build-up.
If you're going to place the corner shelf on the same wall as the shower head, keep the shelf up high enough so that it can be clear from most of the shower spray.
Bonus tip. Drilling into ceramic tile can be very difficult. The drill bit tends to slide across the surface of the tile. To get around this, use a small glass drill bit. They have a very fine point at the tip which makes them great for drilling pilot holes in ceramic tile.
4. Swap out the medicine cabinet
If you've outgrown your current medicine cabinet another budget friendly bathroom ideas is to install a brand new medicine cabinet. This one thing can have an amazing impact for not a lot of effort.
If your current medicine cabinet is recessed into the wall, you might have to enlarge the opening to install a new recessed cabinet. But instead of that, choose a surface-mounted medicine cabinet that you can install over the hole left by your current one.
While you are changing out the bathroom accessories, take a look at your bathroom door hardware. Maybe it's time for an upgrade? Door hardware is standard and in almost all cases it's simple to change out. Changing the lockset on a door takes about 30 minutes.
Bonus Tip: You can buy your door hardware with a "split finish". This is a set of hardware that has one finish on the bathroom side and another finish on the other side. For instance, you might have polished chrome on the bathroom side and polished brass on the bedroom side.
5. Upgrade cabinet hardware
While we're on the subject of hardware, take a look at your vanity hardware. Changing out door and drawer handles is very easy. If your vanity hardware has two holes per handle, measure the distance between the holes so that you can match them exactly when you replace them.
Upgrading a cabinet handle is a five, minute job.
Plumbing Items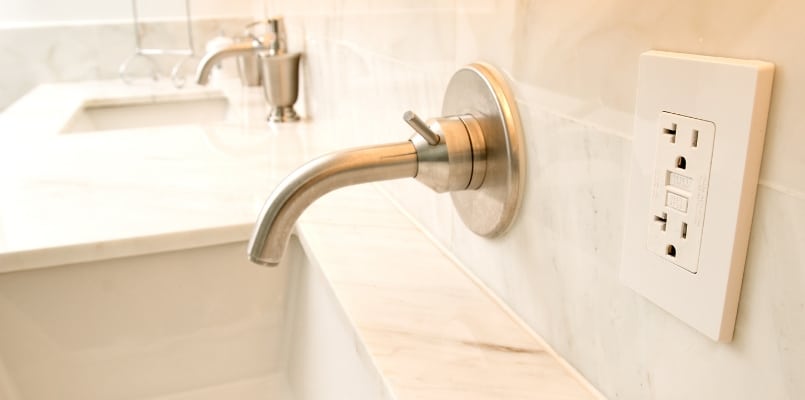 People don't think of plumbing items as being easy DIY projects or budget-friendly bathroom ideas to consider. But don't give up on some plumbing upgrades quite so fast.
6. Replace the toilet seat.
If you haven't changed out the toilet seat in your bathroom, you're in for a treat. Changing out your toilet seat will take about fifteen minutes. Toilet seats are almost completely interchangeable.
But you will need to know if your toilet is an elongated-bowl or a round-bowl toilet. If the front seems elliptical, you likely have an elongated bowl.
While you're at it, look for a soft-close toilet seat.
7. Replace your shower head.
After a few years, most shower heads need a thorough cleaning to get rid of scale that has built up ever so slowly. You can clean this up yourself, or you can replace your shower head. Replacing your shower head will take less than 30 mins.
One great option is to replace it with a shower head that can also double as a handheld shower. In fact, do this before you work on the grout because having a hand-held shower head can make cleaning your shower tile way easier.
Shower heads are almost universally interchangeable. This means that almost any shower head you pick up in your local big box store is interchangeable with what you have now.
Electrical Devices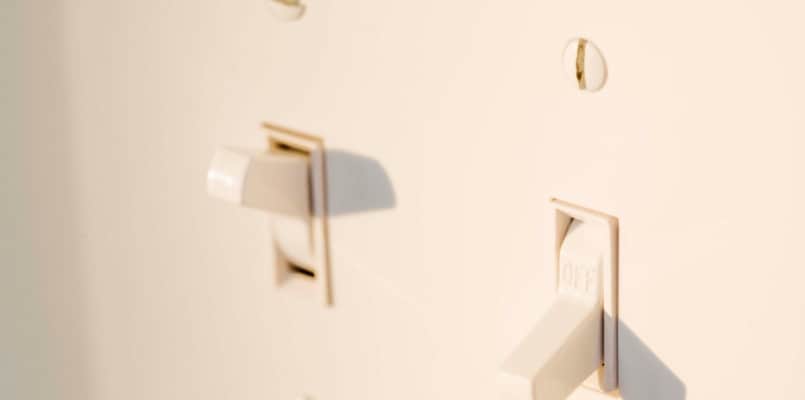 You don't need to be an electrician to make a few simple electrical upgrades that will feel good to have in your bathroom.
8. Switch and outlets
We like our bathrooms to have clean lines. One great improvement is to change out the electrical devices and plates to Decora-style devices. The Decora look is modern and clean without being distracting. A new switch (maybe even a dimmer switch?) and a new outlet along with a new plate (maybe even a screw-less plate?) can make a big difference.
Plan to spend about thirty minutes replacing a switch or an outlet.
Here's a decora-style outlet
While you're at it, take a look at your bathroom light fixtures. Are they looking a little tired? Changing out a surface-mount light fixture is not difficult. The hardest part can often be finding the right breaker to turn off the power.
Bonus tip. Keep a sheet of paper taped to your electrical panel. Each time you identify a specific light or outlet that you know is on a certain breaker, just make a note of it on that piece of paper. It can save you a ton of time in future.
By the time you're done, you'll know exactly which breaker feeds each device in your house not just the cryptic "Breaker #19 Upstairs Bedroom Outlets".
9. Tile & Stone
Freshen up the grout in your bathroom. Grout discolors with time and use. It also cracks.
There are several grout cleaning and even grout painting products. Any one of them can make the tile in your bathroom look like it was installed last year instead of last century.
After all that, it's time to paint. Take some time to do the prep work – fill any holes in walls from where some one put up a robe hook years ago. If there are any rust stains on ceilings (common because of moisture) apply a good stain killer primer before painting.
Still up for more?
Change out the shower arm as well as the shower head. The shower arm is the pipe coming out of the wall that holds your shower head in place. It's attached to the pipe behind your wall with a threaded connection.
Change out the shower curtain and liner.
And while you're at it, maybe you should replace the shower rod now that you've replaced all the other bathroom accessories.
If you're feeling more ambitious, it's not difficult to change out a toilet, a vanity or a sink faucet. And when I say "not difficult" I mean that changing out a toilet might take two hours – and I'm being generous with the time estimate here.
And if you're leaning in the direction of hiring a contractor for your bathroom remodel, read my post on ways to save money on a full scale bathroom remodel project.