5 Top Ways To Save On Your Bathroom Remodel Project
How do you make sure to save on your bathroom remodel project so that sticker shock doesn't ruin everything for you?
You know what I mean? Ever had that sinking feeling when you realize that the house, the car, the bathroom you want is more expensive than you expected?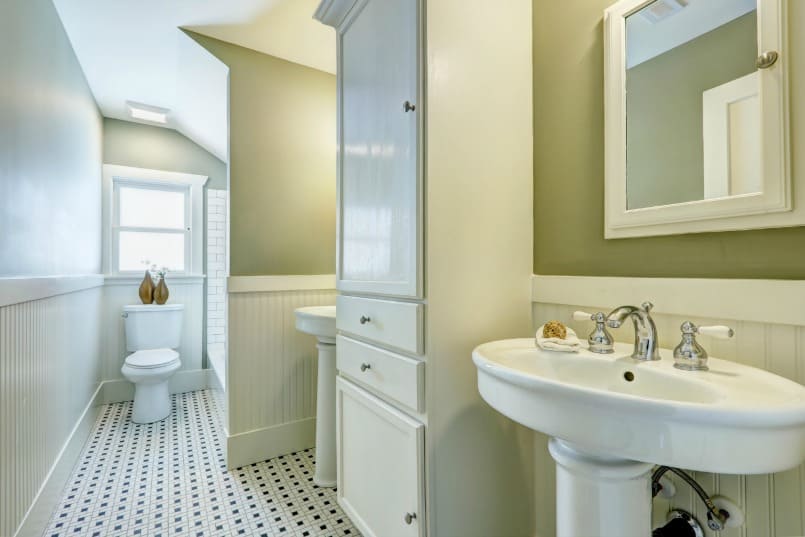 Sticker shock is bad for everyone concerned.
After you've spent months dreaming about your new bathroom, it's a terrible feeling to know you have to cut back. You've fallen in love with a design and with all of the materials you've so carefully selected. Now you have to compromise and cut back?  That just means the project gets off on the wrong foot – for everyone.
If only you'd been told that your choices were going to put you over budget!
1. Save the existing layout
The design time you spend early on can be the most important time you invest in the whole project. If you decide to keep the existing layout you will save a ton of money on plumbing, carpentry, electrical and possibly tile.
So, begin by thinking you will find a way to make the current layout work. The money you save in this decision will make it easier for you to select more expensive finishes – the things you really care about!
This one decision saves money whether it's a master bath or a powder room. I won't ever say that a bathroom DIY project is easy. But, if you don't move the plumbing fixtures, your bath remodel will become easier and cheaper.
2. Showers cost more than tubs
Okay, this isn't a hard and fast rule. There are plenty of budget-busting (but attractive!) tubs out there. And there are some very inexpensive ready-made shower enclosures out there too.
But, if you're planning to replace an existing tub with a shower, that choice is likely to cost more than a tub/shower combination.
3. Pedestals are cheaper than vanities
Will you use a bathroom vanity or a pedestal sink? Usually, it will be cheaper to go with the pedestal option. You won't have as much storage space in your bathroom but the space will be more open and seem bigger.
But don't be fooled. I want you to know about some hidden costs that go with a pedestal.
The shut-off valves will be visible. You'll want to include valves that match the finish and maybe even the style of your faucet handles (most manufacturers sell valves that match their handles). Also, you'll need a tail-pipe and trap assembly in the same finish as the faucets.
Buying a vanity means you'll also need to buy a countertop and backsplash. There's a wide variation in what that can cost.
4. Cut back on tile
You don't need a tile wainscot all around your bathroom. You need tile in your shower of course. But, that's it.
You don't even have to have tile on your floor. Plan on less tile and then if you really love the tile look, add tile because you've saved in other places.
5. Choose polished chrome
A polished chrome finish on faucets is likely to be the least expensive finish. And in my experience it's the most durable finish. A classic finish never goes out of style!
Quick Tips:
Plan ahead.
Re-use plumbing and electrical roughing when you can.
Keep your next bathroom remodel on budget and maybe even have something left over to upgrade some favorite features.